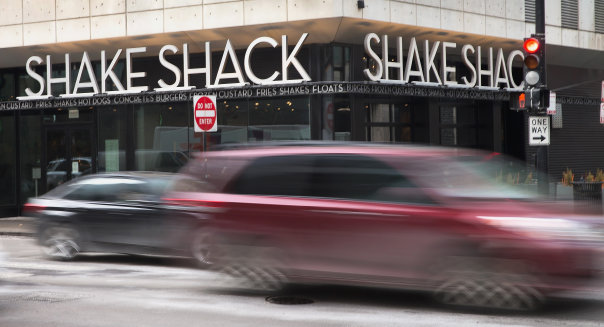 NEW YORK — Investors seem to be craving burgers and crinkle-cut fries.
Shares of Shake Shack, a burger chain that started as a New York City hot dog cart, more than doubled in their stock market debut Friday.
Shake Shack, created by restaurateur Danny Meyer's Union Square Hospitality Group, is the latest "fast-casual" chain to attract investors. Many Americans are ditching fast-food chains, such as McDonald's, for restaurants that tout fresh ingredients. Shake Shack cooks its burgers to order and promotes its use of natural ingredients, including hormone- and antibiotic-free beef.
Shake Shack's New York roots are also likely driving demand for the stock.
"There isn't anyone on Wall Street who hasn't tried their burgers and shakes," says Kathleen Smith, principal at Renaissance Capital, an exchange-traded fund manager that focuses on IPOs. "It's a local favorite."
Shake Shack raised $105 million Thursday, selling 5 million shares at $21 a share.
It had initially forecast that its shares would fetch $14 to $16 a share from investors, and raised that forecast to $17 to $19 a share Wednesday as demand grew.
Shares began trading Friday, and were up 130 percent, or $27.40, to $48.40 in the afternoon — suggesting that the company could have sold its stock for a higher price in its IPO and raised more money.
The company and the banks that priced the IPO may have been surprised by how much demand there was for Shake Shack's shares, Smith said.
It has 63 locations in nine countries, but most of them are along the East Coast. Others are in Las Vegas, Chicago, London and Istanbul.
Shake Shack plans to use some of the money raised to open restaurants in new markets. The company said it expects to eventually have 450 locations.
The stock's pop Friday follows IPOs of other fast-casual restaurants in 2014 that have had big first-day gains, including Mediterranean-style restaurant chain Zoe's Kitchen (ZOES), chicken chain El Pollo Loco Holdings (LOCO) and burger chain The Habit Restaurants (HABT).
As for Shake Shack, its stock is trading under the ticker symbol "SHAK" on the New York Stock Exchange.
It took about 14 years for Shake Shack to go from the hot dog cart in Manhattan's Madison Square Park to Wall Street. Three years after the cart opened in 2001, the company opened a kiosk in the same park, then restaurants in New York City. Long lines are common, and guests are given vibrating pagers that signal when an order is ready.
The first restaurant outside New York City opened in 2010 in Miami.


Copyright 2015 The Associated Press. All rights reserved. This material may not be published, broadcast, rewritten or redistributed.
•Yahoo's New Plan: Spin Off Itself, Not Its Alibaba Stake
•GE Scraps $3.3 Billion Appliance Unit Sale to Electrolux
•E. coli Outbreak Linked to Chipotle Restaurants Expands