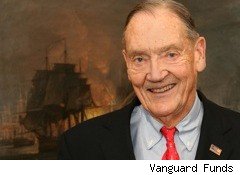 John C. Bogle, who revolutionized the way Americans invest their money, learned the value of a dollar when he was young. His family's fortune was wiped out by the Great Depression, forcing the 80-year-old founder of Vanguard Funds and his two brothers to work as soon as they were able. The financial devastation sent Bogle's father into alcoholism and resulted in his parents divorcing."He had a hard time dealing with the new world he was living in," says Bogle in an interview with . His family was "able to keep body and soul together."
Bogle held a variety of jobs ranging from delivering newspapers and magazines, to waiting on his classmates at prep school and Princeton University. He even worked for the Post Office. He liked all of his jobs except, for one summer gig when he worked as a pin setter at a bowling alley as a teenager. "I was ecstatic with the opportunity to make a little money," Bogle says.

Stock Market Is An Unwinnable Game
His early brush with financial collapse helped shaped Bogle's economic outlook and helps him empathize with the anxiety today's investors face with what has been dubbed the Great Recession. His investing philosophy is outlined in his many books including , which has just been issued in a 10th anniversary edition.
That seems like a lifetime ago for many investors, though Bogle's philosophy remains that the stock market is a game that investors cannot win. Instead of betting on individual stock, Bogle advocates using index funds that allow investors to buy every stock on a market or a stock index to lessen the exposure to volatility of any particular one stock.
Of course, Bogle's views infuriate the likes of CNBC's Jim Cramer who lashed out at my colleague and Bogle admirer Daniel Solin an admirer of Bogle about buying stock indexes. Cramer accused the media of overlooking the fact that the indexes have posted declines for a decade. Bogle, though, does not buy Cramer's argument. (I worked briefly for Cramer's media company TheStreet.com.)

'Evidence On Indexing Has Gotten Stronger'
"The evidence on indexing has gotten stronger and stronger and it has gotten more and more accepted," Bogle says, adding that even superstar fund managers like Bill Miller of Legg Mason whose 15-year streak of beating the S&P 500 ended in 2006, are mortal. He dismisses Cramer, the host of CNBC's Mad Money, for giving advice that is "essentially worthless."
"Yes, some managers do do better and we know who they are after they do better," Bogle says.
Indexing, he argues, prevents investors from buying to high and selling too low. In his book, Bogle argues that he has never met anyone who has succesfully timed the market or anyone who knows someone who has done it. He is a big believer in data — there are reams of it in his book — but not in using charts to guess the market's direction, a view shared by Warren Buffett.

Ill Served By The Financial Industry
According to Bogle, investors are ill served by the financial services industry. He supports the creation of a special agency to protect consumers. He also backs bringing back the Glass-Steagal Act, a Depression-era law of which the repeal, critics say, laid the groundwork for the current financial crisis. Wall Street takes a differing view on both fronts.
Other things that bother Bogle is the proliferation of companies such as E*Trade Corp. (ETFC) and Charles Schwab Corp. (SCHW) that offer investors low-cost trading services, leading people to think investing is a game.
"What we have here is a big marketing business," he says
If Bogle seems like he is on a crusade, it is because that is what he says he is on. Since his health is good, he sees no reason to stop.