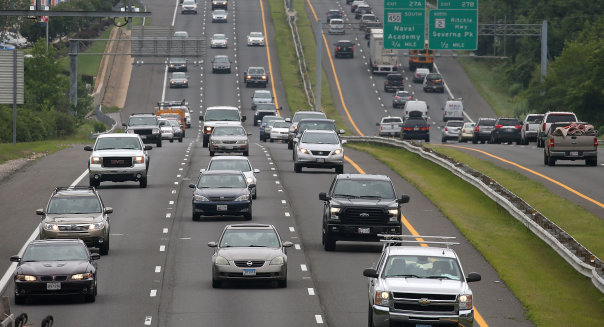 LONDON — Consumption of gasoline in the United States is surging according to estimates prepared by the Energy Information Administration.
More than 9.5 million barrels per day of gasoline were supplied to domestic customers over the last four weeks.
Consumption is running about 480,000 bpd above the 2014 level and 250,000 bpd above the 10-year seasonal average.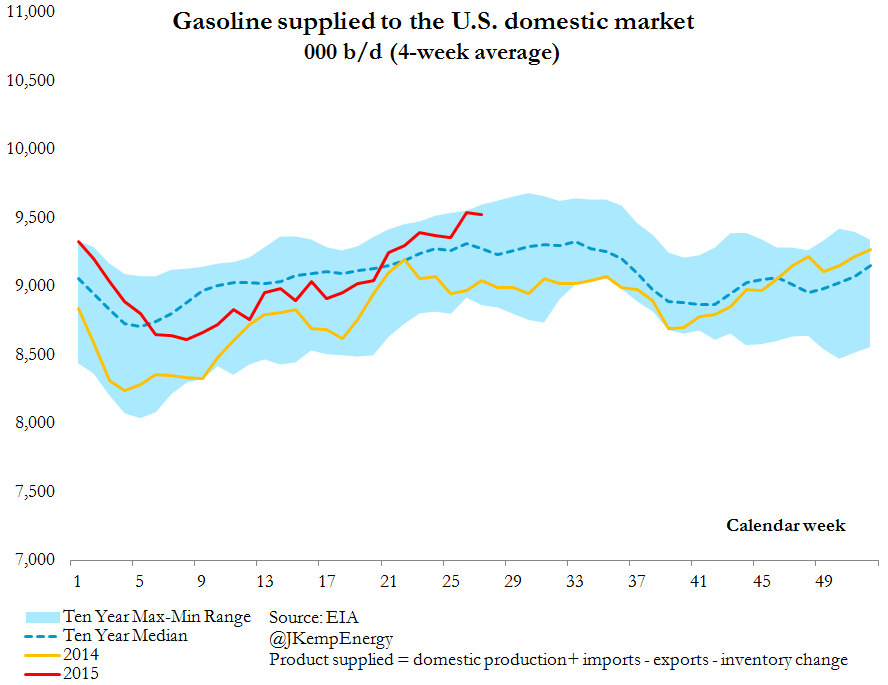 The amount supplied to domestic customers has to be estimated from refinery production, imports, exports and stockpiles so it is subject to some estimating errors but the data all paint a consistent picture of strong demand.
Refineries are running flat out to meet fuel demand from motorists. U.S. refineries have been processing a near-record 16.5 million bpd of crude in recent weeks,1 million bpd higher than the seasonal average.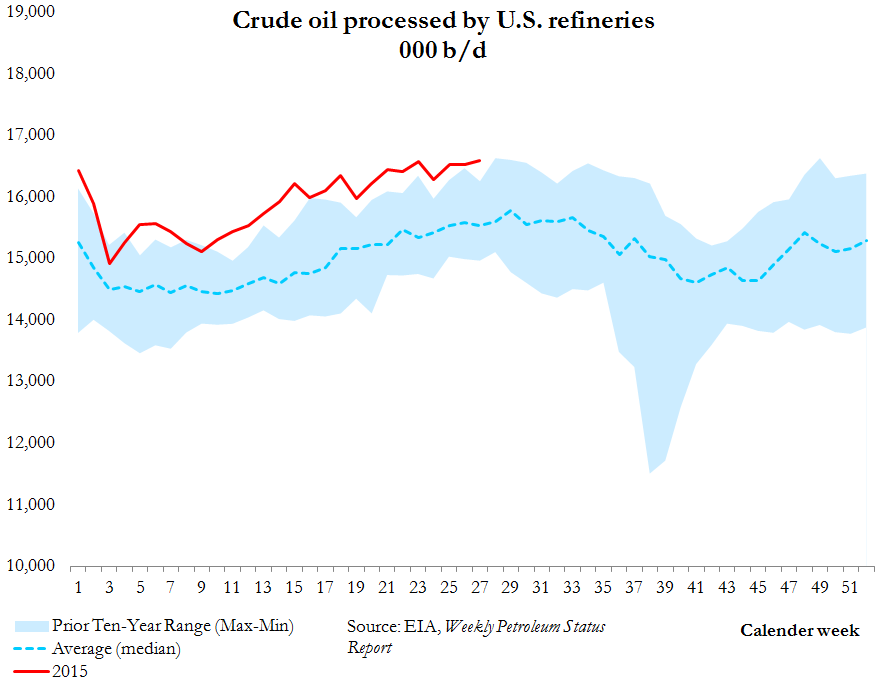 Gasoline production is running at almost 10 million bpd, a level only ever exceeded for a few weeks in 2014.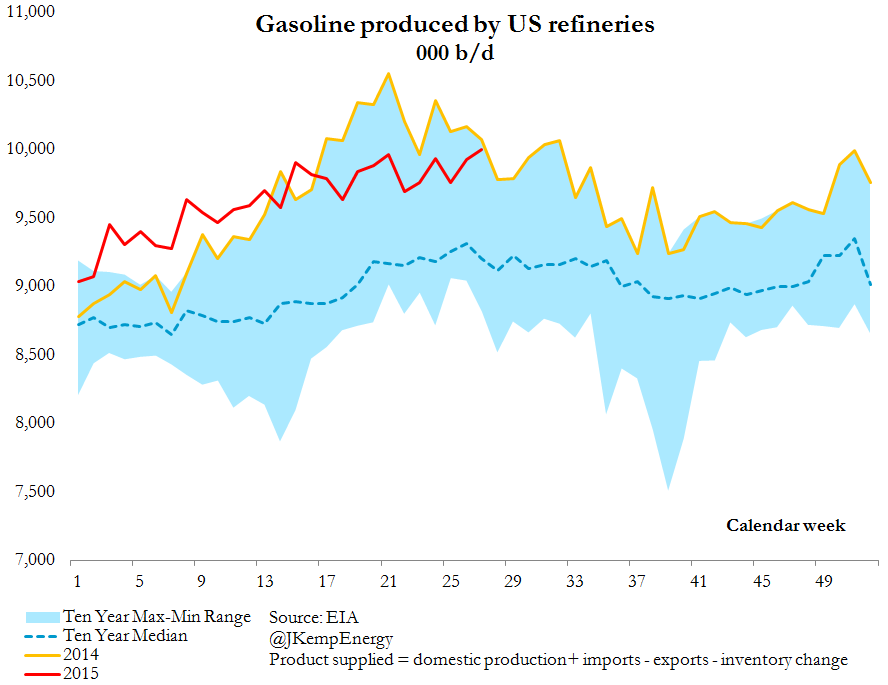 But gasoline stockpiles have fallen 25 million barrels, 10 percent, since February and are now just 4 million barrels over 2014 levels and 5 million barrels over their long-term average.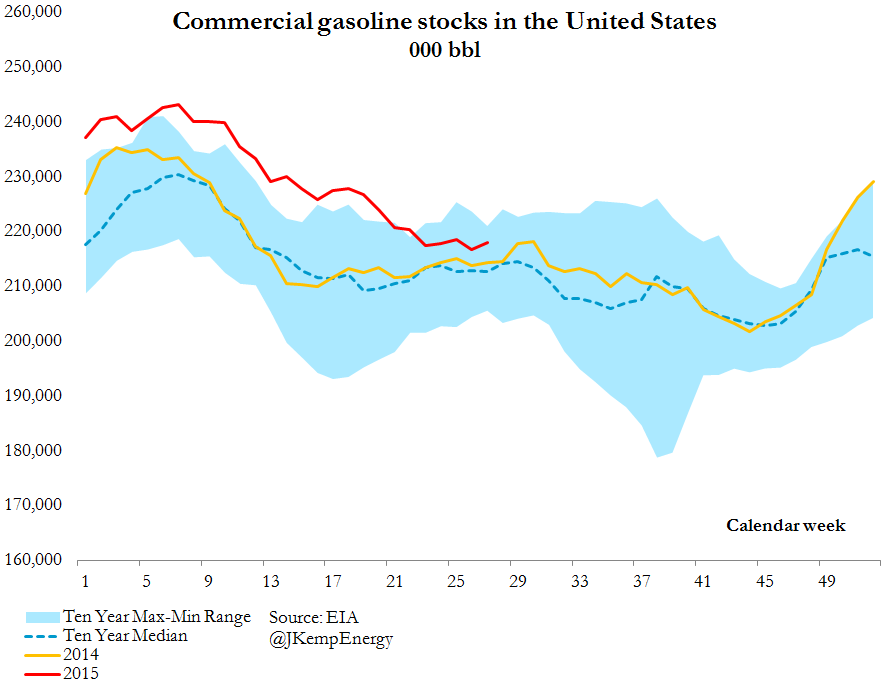 Hitting the Gas
After almost a decade in which gasoline consumption remained in the doldrums, demand has come back strongly.
Gasoline consumption peaked in summer 2007 at almost 9.7 million bpd. But then soaring fuel prices and the recession took their toll and sent demand as low as 9.2 million bpd in summer 2009.
Demand only began growing again in 2013 and 2014 when prices stabilized and the economy started to recover. In 2015, demand appears to be accelerating as the expansion matures and fuel prices remain 25 percent lower than a year ago.
Traffic volumes on U.S. highways are running at least 3 percent higher than year-ago levels according to data from state transportation agencies.
At the same time, Americans are driving larger vehicles. Demand for large sport utility vehicles and pick-up trucks with relatively higher fuel consumption per mile is growing fast, encouraged by lower fuel bills.
The share of light-duty vehicles classified as trucks rather than cars was 54 percent in June 2015, up from 50.6 percent in June 2014, according to Autodata.
Fuel consumption has been the big story in the first half of 2015 as the strongest demand in almost a decade has helped keep refining margins strong and support crude prices despite rising output from OPEC.
•Wall Street Rallies on Fed Rate Hike
•Fed Raises Interest Rates, Cites Ongoing US Economic Recovery
•US Aerospace Sector Poised for 2015 Record Trade Surplus: Group