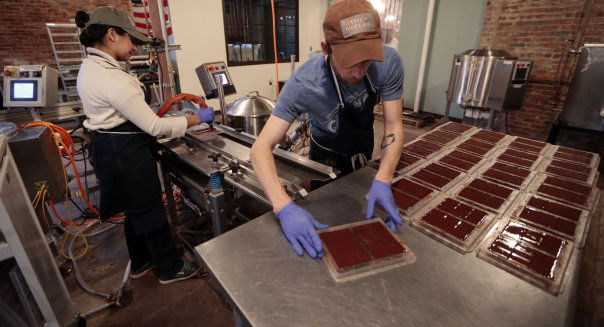 WASHINGTON — U.S. industrial output advanced at its strongest pace in eight months in July as auto production surged, another bullish sign for third-quarter economic growth that boosts the prospects of a Federal Reserve interest rate hike next month.
While other data Friday showed a drop in consumer sentiment early this month, households were upbeat about their personal finances, a good omen for consumer spending. July employment and retail sales data also struck an optimistic note on the economy.
It adds to the steady drum-beat of solid indicators that suggest the economy is getting off to a much better start in the second half of the year…

"It adds to the steady drum-beat of solid indicators that suggest the economy is getting off to a much better start in the second half of the year and further increases the odds toward a September rate hike by the Fed," said Sal Guatieri, a senior economist at BMO Capital Markets in Toronto.
Industrial production shot up 0.6 percent last month after a downwardly revised increase of 0.1 percent in June, the Federal Reserve said. Economists polled by Reuters had looked for a rise of 0.3 percent in July.
The gain in output reflected a 0.8 percent increase in factory production that was spurred by a 10.6 percent surge in motor vehicle output, the largest increase since September 2009.
Auto manufacturers typically shut down production lines in summer for retooling, but economists speculated they probably had done so for only a short period, leading to the jump in vehicle production. Apart from autos, manufacturing rose 0.1 percent last month.
Mining production edged up 0.2 percent as oil and gas well drilling output grew for the first time in 10 months, suggesting the energy sector was starting to stabilize after being undermined by last year's plunge in crude oil prices.
Despite the surge in July, industrial production remains constrained by a strong dollar and lower oil prices.
"We continue to see a stronger dollar and lower energy prices as posing headwinds for industrial output and do not look for a strong rebound in the sector this year," said Jesse Hurwitz, an economist at Barclays in New York.
U.S. stocks were trading marginally higher, while the dollar was little changed against a basket of currencies. Prices for U.S. government debt fell.
Benign Inflation Outlook
In a separate report, the University of Michigan said its consumer sentiment index slipped to 92.9 in early August from a reading of 93.1 in July. Still, it was the highest nine-month average since 2004 and consistent with a 3 percent annualized rate of increase in consumer spending.
The Labor Department also reported Friday that its producer price index for final demand increased 0.2 percent last month as the cost of services rose. The PPI gained 0.4 percent in June.
In the 12 months through July, the PPI fell 0.8 percent after declining 0.7 percent in June. It was the sixth straight 12-month decrease in the index.
But inflation pressures are likely to remain benign due to the strong dollar, falling oil prices and China's recent devaluation of its currency. Inflation has been persistently running below the Fed's 2 percent target.
"Looking ahead there appears to be further downward price pressure in the pipeline as a result of slowing global demand, and of course the recent devaluation of the yuan is likely to only exacerbate that pressure on commodity prices," said Lindsey Piegza, chief economist at Stifel Fixed Income in Chicago.
The volatile trade services component, which mostly reflects profit margins at retailers and wholesalers, rose 0.4 percent in July after increasing 0.2 percent in the prior month.
A key measure of underlying producer price pressures that excludes food, energy and trade services rose 0.2 percent last month after increasing 0.3 percent in June. The so-called core PPI was up 0.9 percent in the 12 months through July.
-.
The gross domestic product measures the level of economic activity within a country. To figure the number, the Bureau of Economic Analysis combines the total consumption of goods and services by private individuals and businesses; the total investment in capital for producing goods and services; the total amount spent and consumed by federal, state, and local government entities; and total net exports. It's important, because it serves as the primary gauge of whether the economy is growing or not. Most economists define a recession as two or more consecutive quarters of shrinking GDP.
1. Gross Domestic Product
The CPI measures current price levels for the goods and services that Americans buy. The Bureau of Labor Statistics collects price data on a basket of different items, ranging from necessities like food, clothing and housing to more discretionary expenses like eating out and entertainment. The resulting figure is then compared to those of previous months to determine the inflation rate, which is used in a variety of ways, including cost-of-living increases for Social Security and other government benefits.
2. Consumer Price Index
The unemployment rate measures the percentage of workers within the total labor force who don't have a job, but who have looked for work in the past four weeks, and who are available to work. Those temporarily laid off from their jobs are also included as unemployed. Yet as critical as the figure is as a measure of how many people are out of work and therefore suffering financial hardship from a lack of a paycheck, one key item to note about the unemployment rate is that the number does not reflect workers who have stopped looking for work entirely. It's therefore important to look beyond the headline numbers to see whether the overall workforce is growing or shrinking.
3. Unemployment Rate
The trade deficit measures the difference between the value of a nation's imported and exported goods. When exports exceed imports, a country runs a trade surplus. But in the U.S., imports have exceeded exports consistently for decades. The figure is important as a measure of U.S. competitiveness in the global market, as well as the nation's dependence on foreign countries.
4. Trade Deficit
Each month, the Bureau of Economic Analysis measures changes in the total amount of income that the U.S. population earns, as well as the total amount they spend on goods and services. But there's a reason we've combined them on one slide: In addition to being useful statistics separately for gauging Americans' earning power and spending activity, looking at those numbers in combination gives you a sense of how much people are saving for their future.
5 & 6. Personal Income and Personal Spending
Consumers play a vital role in powering the overall economy, and so measures of how confident they are about the economy's prospects are important in predicting its future health. The Conference Board does a survey asking consumers to give their assessment of both current and future economic conditions, with questions about business and employment conditions as well as expected future family income.
7. Consumer Confidence
The health of the housing market is closely tied to the overall direction of the broader economy. The S&P/Case-Shiller Home Price Index, named for economists Karl Case and Robert Shiller, provides a way to measure home prices, allowing comparisons not just across time but also among different markets in cities and regions of the nation. The number is important not just to home builders and home buyers, but to the millions of people with jobs related to housing and construction.
8. Housing Prices
Most economic data provides a backward-looking view of what has already happened to the economy. But the Conference Board's Leading Economic Index attempts to gauge the future. To do so, the index looks at data on employment, manufacturing, home construction, consumer sentiment, and the stock and bond markets to put together a complete picture of expected economic conditions ahead.
9. Leading Economic Index
Ways to Get Rich Quicker
13 Money Lies You Should Stop Telling Yourself By Age 40
Why Your Bank Thinks Someone Stole Your Credit Card
7 Millionaires Who Lost It All, but Came Back
More from DailyFinance:
•Wall Street Rallies on Fed Rate Hike
•Fed Raises Interest Rates, Cites Ongoing US Economic Recovery
•US Aerospace Sector Poised for 2015 Record Trade Surplus: Group