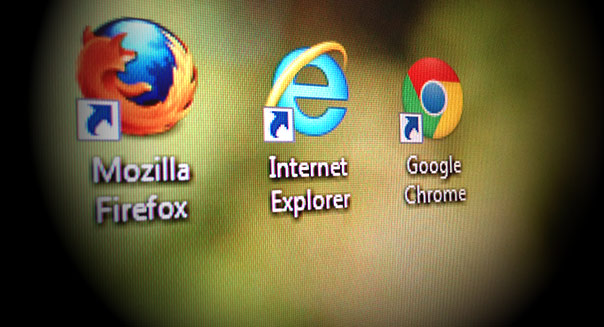 On the surface, it might seem peculiar that your choice of Internet browser could affect the price you pay for car insurance. After all, browsers are merely tools for accessing the Web, and — officially, at least — they should all be accessing the same information. So the cost of the insurance policy that you find through Safari should be the same as the policy that you'd be offered on Google Chrome.
But here's the thing: a recent study by CoverHound, a company that helps users comparison shop for insurance, revealed that, among shoppers who bought auto insurance online, users of certain browsers paid as much as 23 percent more. According to CoverHound's analysis, the average user of Microsoft's (MSFT) Internet Explorer or Apple's (AAPL) Safari user pays $750 for car insurance every six months. By comparison, Chrome users pay $731 and Firefox users pay the least — $608.
It would be great if using Firefox automatically resulted in lower insurance rates, but the truth is that there are other factors involved. To begin with, Firefox users skew older — on average, three years older than Google (GOOG) Chrome or Safari users. And, since older drivers tend to get lower rates, it seems natural that Firefox users would pay less. They are also more likely to have graduate degrees, own their own homes, and be married.
But even if we control for the factors that naturally earn Firefox users lower rates, there are still anomalies that CoverHound's study reveals. For example, the average Internet Explorer user is older than the average Firefox user, which, based on industry standards, would suggest that IE users should pay less. Instead, they pay the most.
Users of Google Chrome are an even bigger anomaly. Chrome users are, on average, the youngest. They are far less likely to own their own homes and are the second-least likely to be married. By all rights, they should probably be paying the most for car insurance — but they aren't.
adsonar_placementId=1505951;adsonar_pid=1990767;adsonar_ps=-1;adsonar_zw=242;adsonar_zh=252;adsonar_jv='ads.tw.adsonar.com';
According to CoverHound CEO Basil Enan, one reason for this anomaly may lie in the users themselves. "People who take the time to seek out a better browser might also be inclined to seek out a better insurance policy," he explains. "Internet Explorer and Safari often come pre-loaded on PCs and Macs. For the most part, Firefox and Chrome users have to go out of their way to get it. This suggests that they might be more tech savvy."
Another element may be Google itself. "Google is a great search engine," Enan notes. "Perhaps it's better at leading users to more attractive insurance rates. It's difficult to speculate, and would be difficult to prove, but it might be a factor."
In other words, the quality of your search might have an impact on the your insurance rate — and the best search comes from a browser that you choose for yourself.
Founded in San Francisco in 2008 with a coinciding app released early this year, Airbnb is a home-sharing service which opens your house or apartment to strangers looking for a place to crash. Conversely, you can use Airbnb to find a place to stay without ever renting out your own place. The company currently offers more than 100,000 listings in over 192 countries, and boasts 5 million nights booked.
Airbnb is not only great for finding a cheaper nightly rate. Fewer hotel rooms also mean fewer carbon emissions. Of course, renting out your room to a complete stranger always comes with a risk, as one woman discovered last July when she returned to find her home ransacked by meth addicts. In response to this incident, Airbnb significantly increased its insurance coverage.
Airbnb
Launched early this year in New York, CLOO' stands for Community + Loo. Yep, it's an app for sharing bathrooms. According to its website, "CLOO' is based on one simple truth: We all have to pee." CLOO' has a network of registered users, or 'hosts,' who have offered up their bathrooms for a small fee. The app even offers a "community rating" of hosts, so that you can consider both safety and sanitary precautions before selecting a spot. The app also utilizes social media outlets such as Facebook (FB) and Twitter to help you identify nearby hosts with mutual friends, "turning a stranger's loo into a friend of a friend's loo." Finally, finding a clean, available restroom in the city is no longer an impossible task.
CLOO
The Local Dirt app allows users to locate, buy, and sell local foods in their area. Launched in early 2008 in Madison, Wisconsin, the concept not only supports local economies, but also cuts out the high emissions spent on transporting grocery products across the country. Better yet, Local Dirt is funded by the National Science Foundation, so it's free for the rest of the year. Unfortunately, this perk ends December 31, 2012; from that point on, membership will be $360 annually. Still, this is a low price to pay for access to fresh, local products year-round, and chances are you'll still pay less than you would at your local Whole Foods (WFM). Businesses and large organizations can typically have their orders delivered; individuals usually have to go to the source to pick up their local goods.
Local Dirt
Launched in 2009, San Francisco-based ThredUP is a start-up website designed to help busy parents save money by giving them the opportunity to buy and sell their children's hand-me-down clothing. Since kids grow so quickly, they outgrow their clothes at an alarming rate. ThredUP will pay you for your kids' outgrown duds, as well as give you access to popular kids' brands up to 75% off. The best part is you can do all of this from the comfort of your own home — just leave your bag of used clothes at your door, and ThredUP will take care of it for you, shipping costs and all.
For those looking to buy, there is a $6.95 flat shipping rate; orders typically arrive in seven to 10 business days. While ThredUP is currently only available in the US, the company hopes to expand into international markets by the end of this year.
ThredUP
A self-proclaimed Netflix (NFLX) for books, New Jersey-based Bookswim is a book-rental service with no due dates, late fees, or shipping fees. There are four different schemes — a customer can rent either three books, five books, seven books, or 11 books at a time, and pay rates ranging from $23.95/month to $59.95/month. BookSwim advertises availability to both New York Times (NYT) bestsellers as well as classic literature. It also features personalized reading recommendations, updates for when your favorite authors publish new books, and the option to purchase any book you borrow at a discounted price, should you choose. The site is also devoted to conservation; not only does the start-up conserve paper by reusing books, but they have also pledged to plant a tree for every gift card bought. To date, BookSwim has saved enough trees to reduce carbon emissions by 10 metric tons.
Bookswim
Popular among fashionistas of all ages since its launch in late 2009, Rent the Runway allows women of any income bracket to enjoy designer dresses and accessories at only 10% of the retail cost. Based in New York City, Rent the Runway offers both a four-day and and an eight-day rental option, and covers both shipping and dry-cleaning costs. To ensure the dress fits, you're allowed one back-up size free of charge with each order. Rent the Runway also offers free stylist consultations to help you decide which dress is your best fit. (See related story: Will "Ethical Fashion" Become the New Norm?)
Rent the Runway
The be-all end-all of the sharing economy, San Mateo, California-based Rentalic launched in 2010 as a person-to-person marketplace for renting any and all reused goods, ranging from wheelbarrows to mini vacuum cleaners to VW Beetles (VOW.DE). It's not limited to items, however; the Rentalic marketplace also offers services and real estate as part of its renting platform. Like most of the previously mentioned innovations, Rentalic not only increases usage of items we already have or that are already in use, but also strengthens community ties and helps out the environment.
Rentalic
Wall Street, Fleet Street, Main Street: Corporate Integrity at a Crossroads
Bernanke's Astonishingly Good Idea
SPX and RUT Updates: Has the Market Finally Reached a Long-Term Decision Point?
Funniest Financial Tweets of the Week
Buzz on the Street: Facebook Flops — Thanks Again, Wall Street!
More from Minyanville