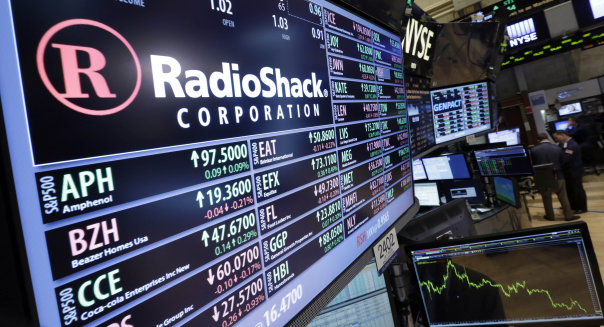 From Chinese dot-coms offering Western investors a quarterly glimpse into their latest financials to a small-box retailer of consumer electronics that's quickly losing its power, here are some of the things that will help shape the week that lies ahead on Wall Street.
Monday — Bull in a China Shop
The new trading weeks kicks off slowly close to home, but the same can't be said in China, where several prolific companies will be posting quarterly results. Social networking website Renren (RENN) reports in the morning, followed by Web browser and security software specialist Qihoo 360 (QIHU) in the afternoon.
The two companies have been going in different directions. Renren has suffered from diminishing popularity in China. Qihoo 360, on the other hand, has posted scintillating growth. Two summers ago it launched a search engine that is now the country's second most popular platform.
Tuesday — RadioShack Silence
It's been a couple of years since I singled out RadioShack (RSH) as one of five retailers that won't be around in five years, and it's getting closer to becoming a reality. The small-box chain selling consumer electronics and smartphones has been struggling, and its profitless ways have turned this once-iconic chain into a glorified penny stock.
RadioShack is attempting a turnaround. It's remodeling stores. It's shaking up its marketing strategy. However, earlier this month, analysts at UBS felt that RadioShack was unlikely to succeed as it faces a credit crunch. RadioShack reports on Tuesday, and it's likely to chime in with another big deficit.
Wednesday — Retailers on Parade
Tilly's (TLYS), Chico's FAS (CHS), and Tiffany's (TIF) all step up with fresh quarterly financials on Wednesday. This time of year is ripe with retailers reporting since their fiscal calendars often find quarters closing a month later than calendar-based companies.
Tilly's and Chico's FAS cater to different audiences with their clothing, footwear and accessories. Tiffany's is the high-end jeweler. Analysts see flat to modest sales growth at the three chains. They also unfortunately see net margins contracting at all three operators.
Thursday — In the Kitchen
There hasn't been a shortage of restaurant initial public offerings over the past year. The challenge has been for them to remain successful. Too many fast casual and casual dining concepts have hit the market blazing in recent months, only to cool down like a bowl of gazpacho.
Zoes Kitchen (ZOES) has been one of the rare winners. The unconventional chain offers up Mediterranean fare. You won't find salmon kabobs or hummus salad on the menu of too many major chains. With just 124 eateries, investors are betting that there's plenty of upside here. We'll find out if that's going according to plan when it posts its first complete quarter as a public company on Thursday.
Friday — At the Movies
There may still be some summer blockbusters that you haven't checked out at the local multiplex, but some of the movies opening this weekend include Pierce Brosnan's "The November Man" and the psychological thriller "As Above, So Below." It's a pretty soft slate going into the holiday weekend, but Labor Day isn't as magnetic to exhibitors as Memorial Day weekend is a few months earlier.
For many employers, open enrollment season for some benefits happens in October. This usually sneaks up on some people, who scramble to decipher benefits and make elections last minute. Although you won't be able to see the options until the enrollment period opens, take time now to review your benefits. Are you taking advantage of any 401(k) matches? Are your fully funding your Flexible Spending Account? What about employer offered life and disability insurance? (A fun infographic from the Council for Disability Awareness shows your risks). Maximize your benefits and don't leave any money on the table.
​1. Make the right choices at open enrollment
Back-to-school time can be expensive if you're not prepared. Money is spent on clothes, books, supplies and technology — and that's before the doors to the classroom have even opened. Before hitting the stores, do these two things:
Conduct an online search for "coupon code" along with the name of any store you'll be shopping at. Typically you can find some great online deals.
Get a list from you class or teacher of specific type of notebook, calculator, etc. required. If you can't get child's "must haves" from ahead of time, buy just the bare minimums until school starts and the list is available.
2. Spend wisely on back-to-school items
It's hard to think about the holidays when we're just making it through summer, but now is the time to build up a financial cushion. Set yourself up with an automatic transfer to a separate savings account and participate in the Holiday Fund Money Challenge to build up a savings of $450. How much do you need for the gifts, travel, parties, entertaining, food and other holiday activities you anticipate? Planning will help to ease the stress that comes around the holidays.
​3. Plan for the end-of-year holidays
In lieu of scrambling at the end of the year to make contributions to retirement accounts by Dec. 31, double-check your contributions now and determine if there's room in your cash flow to allow for an increase to possibly max out by year end.
​4. Maximize your retirement funding
Summer is a typically a time of transitions. There are weddings, moves to new homes, possibly a new family addition and more. If summer is the time when these events take place, fall should be the time to take stock of how they're panning out. If you're recently married and haven't already, now is the time to have the money talk with your spouse and make decisions about spending plans, merging (or not merging) accounts, beneficiary updates and more. If you've moved, check out how the new location has affected your cost of living spending in terms of activities, gas costs, groceries and more. Ultimately with any transition, you need to review your spending plan and determine what areas (if any) need to be adjusted.
5. Consider your transitions
If you're lucky enough to live in one of the states that actually experiences seasons, fall is the time to prep for energy savings by caulking and weatherstripping doors and windows, turning your thermostat back for a fixed period each day and insulating your attic, basement or outside walls.
6. Weatherproof your home
Costco's Not Just for Bulk Buying Anymore: Save on Services, Too
How to Get the Best Deals on College Textbooks
4 Things Honey Boo Boo's Mama June Could Teach You About Money
More from DailyFinance:
•Last Week's Biggest Movers on Wall Street
•Wall Street This Week: Cyber Monday Fades, Retailers Report
•Week's Winners and Losers: Pandora Jams, Costco Slammed