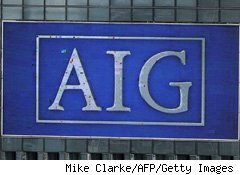 American International Group (AIG) is preparing for its first debt offering in two years, reported Thursday. Such an offering could be an important test of whether investors think the insurance giant can stand on its own and ultimately repay the taxpayers for its bailout.
The company, which is nearly 80% owned by the U.S. government, has received a total of $182 billion in bailout funds since its near collapse in September 2008. Other companies that received bailout money had to demonstrate they could raise capital on their own before repaying the government. AIG has yet to demonstrate that, but if the bond offering succeeds, it would also mean investors see a future for the company.
Earlier this month, AIG expanded an existing registration statement for securities offerings to include debt, the reported. While AIG didn't say when it would try to raise the money, sources told the paper it could be by year's end. The filing also said net proceeds from securities sales would likely go toward repaying some of AIG's debt to the Federal Reserve Bank of New York. AIG owes the New York Fed $23.7 billion, which expires in September 2013.
Eventually, says, AIG will have to sell a large amount of common stock, which is a much riskier investment than bonds. But a sale like that will happen only when AIG is mostly out of the woods. While AIG has seen progress in its restructuring as well as improved conditions, it's not there yet, and until then, AIG will remain the taxpayers' responsibility and burden.