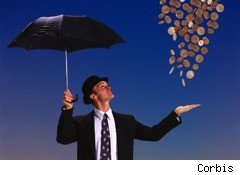 By Brian D. Pacampara, The Motley Fool
Based on the aggregated intelligence of 170,000-plus investors participating in Motley Fool CAPS, the Fool's free investing community, insurance holding company AmTrust Financial Services (AFSI) has earned a coveted five-star ranking.
With that in mind, let's take a closer look at AmTrust's business and see what CAPS investors are saying about the stock right now.
AmTrust Facts
---
Headquarters (founded)
New York
Market Cap
$1.13 billion
Industry
Property and casualty insurance
Trailing-12-Month Revenue
$1 billion
Management

CEO Barry Zyskind

CFO Ronald Pipoly Jr.

Return on Equity (average, past 3 years)
21.3%
Cash/Debt
$234.1 million / $660.4 million
Dividend Yield
1.7%
Competitors

Markel (MKL)

Travelers (TRV)
Source: Capital IQ (a division of Standard and Poor's) and Motley Fool CAPS
---
On CAPS, 98% of the 611 members who have rated AmTrust so far believe the stock will outperform the S&P 500 going forward. These bulls include cnbcgb and FoolishMikee.
adsonar_placementId=1505951;adsonar_pid=1990767;adsonar_ps=-1;adsonar_zw=242;adsonar_zh=252;adsonar_jv='ads.tw.adsonar.com';
Less than two months ago, cnbcgb listed several of AmTrust's positives: "Low P/E trailing and future. … [H]igh recurring income. High ROI…Has momentum, which I normally don't chase, but this one is repricing appropriately."
In fact, AmTrust currently sports a cheapish forward P/E of seven. That represents a discount to other insurance stocks like Markel (23.5), Travelers (9.8), and even AIG (AIG) (14.1).
CAPS member FoolishMikee elaborates on the bull case:
What do you think about AmTrust, or any other stock for that matter? If you want to retire rich, you need to put together the best portfolio you can. Owning exceptional stocks is a surefire way to secure your financial future, and on Motley Fool CAPS, thousands of investors are working every day to find them. CAPS is 100% free, so get started!
Get info on stocks mentioned in this article:
AFSI
AIG
MKL
TRV
Manage Your Portfolio
---
More on The Motley Fool:
Seven Reasons Not to Worry This Week
Five of Last Week's Biggest Winners
Is BP the Perfect Stock?