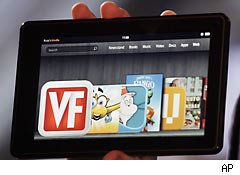 There's never a dull moment on Wall Street, especially when new tablets and old banks are in the way. Let's go over some of the items that will help shape the week ahead once Monday rolls around.
1. Kindle Fires are burning: Amazon.com (AMZN) is now just weeks away from rolling out Kindle Fire, its $199 Android-fueled tablet that's gunning for mainstream audiences looking for a slightly smaller — and considerably cheaper — iPad alternative.
The leading online retailer posts its quarterly results on Tuesday afternoon, giving CEO Jeff Bezos a golden opportunity to rave about the state of Kindle Fire pre-orders.
It's not just the tablet. Now that the Kindle reader itself can be had for as little as $79, it's becoming harder for booklovers to resist the gadget. Can you believe that the Kindle hit the market at $399 just four years ago? You've got to love tech gadgetry deflation.
All of the cheap hardware isn't coming cheap to Amazon, though. Analysts see the e-tailing giant earning less than half as much as it earned during last year's third quarter. Investors are cool with that. They realize that Amazon is trying to build out the largest audience possible. Once the Kindle and Kindle Fire reach critical mass, the company can rake in the cost advantages of digital distribution.
2. Those Netflix mailers are red because Reed Hastings is in the hot seat: It's hard to find a company that has bludgeoned its reputation as badly as Netflix (NFLX) has in the span of only three months.
Netflix shares were trading north of $300 in July, but an unpopular pricing increase, the loss of a prolific streaming partner, and the Qwikster fiasco have pummeled the stock.
CEO Reed Hastings has gone from tech visionary to laughingstock, and Monday afternoon will give him another crack at redemption when he addresses the market with his quarterly letter to shareholders and subsequent quarterly conference call.
There are actually people calling for Netflix's board to make a change at the top, but it's important not to underestimate Hastings. These last three months have been woeful, but Hastings didn't get his company to top 24 million subscribers without doing more than a few things right over the past decade.
3. Check in with your fund company: When market mavens are skittish, mainstream investors are quick to pull money out of their mutual funds. Savings account rates hovering barely above 0% don't look so bad when equities are posting negative returns.
adsonar_placementId=1505951;adsonar_pid=1990767;adsonar_ps=-1;adsonar_zw=242;adsonar_zh=252;adsonar_jv='ads.tw.adsonar.com';
The mutual fund industry naturally isn't happy about this, especially after the market was generally rallying for roughly two years before the summertime slide.
We'll get to hear from the fund families themselves. T. Rowe Price (TROW), Franklin Resources (BEN), Legg Mason (LM), and Invesco (IVZ) are all reporting their quarterly results next week. Thankfully the pounding that the market took during the third quarter will be compared to where the industry was a year earlier. Three of the four fund companies are actually expected to post stronger profitability this time around. Legg Mason is the one standing out by going the wrong way.
4. Aflac ducks: It's now been several months since Gilbert Gottfried tweeted his way out of his job as the voice of Aflac's (AFL) duck. The insurance carrier decided to sidestep a celebrity replacement, probably figuring that an unknown sales manager from Minneapolis — Daniel McKeague — probably isn't a threat to go on a tasteless Twitter rampage after a natural disaster.
Aflac may be asked by analysts if consumers are warming up to the new duck voice during next week's quarterly call, though the more pressing questions will be about the supplemental health and life insurance provider's actual business.
Other insurers slated to deliver results next week include MetLife (MET) and Aetna (AET).
5. Paper, plastic or Visa?: Banking customers are incensed with fees on debit cards being used for actual purchases, but how are things going with more traditional forms of plastic?
Visa (V) checks in with its quarterly numbers on Wednesday, and analysts see healthy gains on the bottom line. As a credit card marketer, Visa doesn't have to take on the credit risks that issuing banks — the bank names on your card — have to take on.
Either way, Visa's report will give us a good glimpse at worldwide charging patterns. If folks are swiping more at registers and restaurants, the economy can't be doing too badly.
.
Get info on stocks mentioned in this article:
AET
AFL
IVZ
MET
Manage Your Portfolio