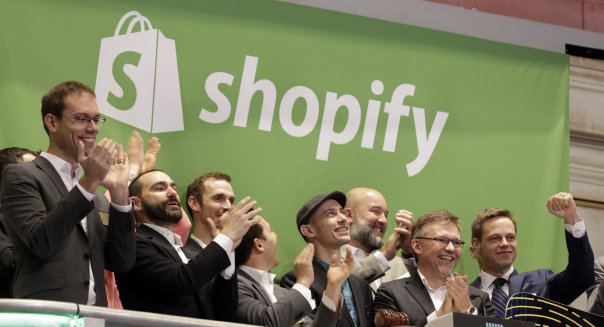 Plenty of stocks go up and down in any given week. The gainers inspire us to keep investing. The decliners keep greed in check while reminding us about the risks of the equity markets.
Let's go over some of last week's best and worst performers.
Shopify (SHOP) — Up 23 percent last week
Recently public Shopify moved higher after an expansion of its "buy" button test on the leading social media network. Shopify offers a cloud-based commerce platform, and the market's excited about the potential of its alliance with Facebook (FB) as the social network tests Shopify's "buy" buttons, where merchants can complete transactions with shoppers never having to leave Facebook.
Shopify went public at $17 last month. It's been a hot debutante, and last week's pop now finds the stock nearly doubling in less than a month of trading.
ITT Educational Services (ESI) — Up 20 percent last week
A better-than-expected quarterly report sent shares of the provider of technology-oriented postsecondary degree programs higher. As with many for-profit educators, revenue did clock in lower than it did a year earlier. However, ITT's profit managed to nearly triple to 44 cents a share. Wall Street was braced for a year-over-year decline.
Krispy Kreme Doughnuts (KKD) — Up 16 percent last week
Another big mover on earnings news was Krispy Kreme. The home of decadent doughnuts saw its revenue climb 9 percent, fueled by brisk expansion and a 5.2 percent uptick in comparable-store sales. Yes, those glazed circular treats are bad for you, but folks apparently can't get enough of them these days.
The sweetness carried all the way down to the bottom line: Krispy Kreme's adjusted profit rose slightly to 24 cents a share. Analysts were only holding out for net income of 22 cents a share, making this the first quarter in a year that Krispy Kreme has beaten analyst forecasts.
LeapFrog Enterprises (LF) — Down 29 percent last week
The losses and sliding sales continue to mount at LeapFrog. The company that a generation ago raised the bar in the realm of electronic learning toys is struggling to remain relevant in this era of cheap tablets and even cheaper educational apps.
Consolidated net sales plunged 36 percent since the prior year's quarter. LeapFrog was hoping that new products that it introduced last year — a video game console and a fitness tracker for kids — would help offset waning demand for its earlier educational playthings. It obviously didn't happen. LeapFrog got schooled, again.
Boulder Brands (BDBD) — Down 23 percent last week
Boulder Brands got rocked after announcing that its co-founding CEO had resigned effective immediately. It also warned that sales for the current quarter would clock in lower than in the same period a year earlier. This is the first time that Boulder Brands will be posting a year-over-year decline in quarterly sales in years.
Boulder Brands may not be a household name, but many of the company's health and wellness food brands are supermarket staples, including Smart Balance buttery spreads and EVOL natural frozen foods. It's also a big player in the gluten-free market with its Glutino and Udi's product lines.
Hovnanian Enterprises (HOV) — Down 16 percent last week
At least one homebuilder is feeling the pain of a real estate rally that appears to finally be losing some steam. Hovnanian slumped after posting uninspiring quarterly results. Revenue inched slightly higher, but the developer's quarterly loss has widened since last year.
Cancellation rates held steady and its backlog of home orders has improved, but the market's concerned about its inability to get out of the red. It has posted a loss in four of the past six quarters.
•Last Week's Biggest Movers on Wall Street
•Wall Street This Week: Cyber Monday Fades, Retailers Report
•Week's Winners and Losers: Pandora Jams, Costco Slammed