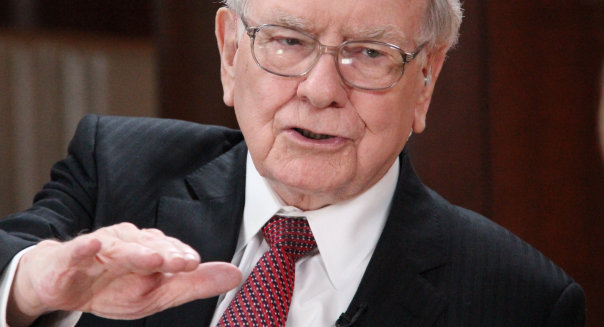 OMAHA, Neb. — Warren Buffett is making the biggest bet of his long investment career, a $32.36 billion buyout of Precision Castparts in a deal that will continue to reshape his Berkshire Hathaway conglomerate.
The acquisition of the aerospace and industrial company would top Buffett's $26.7 billion deal for BNSF railroad in 2010. It also follows several huge deals outside of the core insurance companies Buffett built his investment empire on that included manufacturing, railroads, utilities and food companies.
Buffett said Monday that Berkshire will pay $235 a share in cash for Precision Castparts' outstanding stock. The deal is valued at about $37.2 billion, including debt.
Precision Castparts, based in Portland, Oregon, has been hit hard by tumbling crude and natural gas prices, but Buffet told CNBC that he would have bought the company even if he knew that commodities were in the midst of a multiyear slump.
"We're going to be in this business for 100 years, so it doesn't really make any difference what oil and gas does in the next year," Buffett said.
Author and investor Jeff Matthews, who wrote "Warren Buffett's Successor: Who It Is and Why It Matters," said he doesn't think Berkshire is getting a good price on Precision Castparts, so he's not sure it will be good for shareholders, especially since Precision's business is tied to the airline industry.
"I'm not crazy about buying a cyclical business like this with the stock market at an all-time high," said Matthews, who also holds Berkshire stock.
But other analysts said the price appeared fair.
KBW analyst Meyer Shields said Precision Castparts Corp. may be a cyclical business, but Berkshire already owns a number of those and doesn't mind uneven profits in the short term. Shields said Precision Castparts stock had traded as high as $280 in recent years.
"From the Berkshire perspective, they're getting a good company on sale," Shields said.
Precision Castparts will keep its name and will remain in Portland.
The boards of Precision Castparts and Berkshire Hathaway Inc. (BRK-B) unanimously approved the transaction, which is expected to close in the first quarter of next year.
Shares of Precision Castparts (PCP) surged 19 percent, or $37, to $230.88 in early trading.
(DE) trades at close to $86, and the $97.89 consensus price target implies upside of almost 14%. Deere comes with a 2.3% dividend yield. The 4 million shares in Buffett's war chest are worth about $344 million, but will be worth almost $400 million or so if you include the dividends in a year, if Wall Street is right. Buffett might agree with the most optimistic analyst target out there of $120 per share, since this machinery giant trades at only about 10 times earnings.
Deere & Company
GM (GM) is still a fairly new position for Team Buffett. Buffett probably thought he would get an index-related bounce, and his 25 million share are worth about $850 million. GM's stock has risen to more than $34, which still leaves more than 15% upside to the consensus price target of $39.53. Buffett likely foresees years of auto sales growth ahead, and GM's forward earnings multiple of 10 times earnings is just a tad cheaper than the dividend-paying Ford Motor (F) at almost 11 times earnings. The highest analyst target out there is actually above $50, although we would caution that GM pays no dividend.
General Motors
J.P. Morgan (JPM) is a personal stock holding of Buffett, even though Wells Fargo & Co. (WFC) keeps becoming a larger and larger stake for Berkshire Hathaway every quarter. We are not sure how much money Buffett has put into J.P. Morgan himself because it has not been disclosed. With shares just under $53, the implied upside is close to 8% here, and that was the most upside in the Buffett banking and financial giants. Buffett himself likely agrees more with the highest consensus target of $66, since this top bank trades at less than 10 times earnings and yields almost 3%.
J.P. Morgan Chase & Co.
Coke (KO) has retreated to under $41 from $43 in this latest market pullback, but the implied upside to the $46.20 price target is now about 13.5%. Buffett has been a long-term holder here, and his position is worth close to $16 billion. The top analyst target is $50 and the dividend yield is about 2.8%. Buffett has had a stake in Coca-Cola so long that he likely couldn't care less that a beverage stock trades at about 19 times expected earnings.
Coca-Cola Co.
IBM (IBM) is still somewhat new to the Buffett portfolio, and it's a larger position, worth close to $14 billion, for more than 68 million shares. The $203 share price implies almost 10% upside to the $222 price target. IBM keeps buying back stock at a rapid pace but only pays a 1.8% dividend yield. It trades at about 12 times earnings, and the highest price target from the analyst community is $250.
International Business Machines
Berkshire Hathaway's position in National Oilwell Varco (NOV) has grown to almost 7.5 million shares, with a current market value of more than $500 million. It trades at about $69.25, and that implies about 19% upside to the $82.58 consensus price target. The dividend yield here is lower than most Buffett stocks at only about 1.5%, but its valuation in the oil infrastructure market is not excessive at about 12 times expected earnings. Buffett's new portfolio managers probably think that the highest analyst price target of about $93 is closer to the truth, considering its dominance oil and gas infrastructure.
National Oilwell Varco
Buffett's stake in Precision Castparts (PCP) is worth about $420 million, but the $211 share price implies upside of about 13.5% to the consensus $239.60 price target. Its dividend is too small to matter, although it was hard to not notice the street-high price target of $280 for the metal components and products player.
Precision Castparts
Berkshire has a lot riding on it's stake in Procter & Gamble (PG), which is valued at about $4 billion, although this is a lower stake than it had been in the past. Now that shares have pulled back to about $76.85, the implied upside that remains here is just over 10% to the consensus target of $84.78. Buffett likely agrees with the activists that the CEO change may help, and Buffett probably would think that the street-high target price of $95 is perhaps better for the long-term, as the consumer products giant recently tried to break out to higher prices. Buffett might also say that he is happy to get that 3.1% dividend yield while he waits. He might agree that 19 times earnings is too much in general to own a consumer products stock, but he has said over and over again that he'll pay up for quality.
Procter & Gamble
Berkshire Hathaway's stake in Phillips 66 (PSX) was added to after the Conoco spin-off, its 27.16 million shares are worth more than $1.7 billion. The $63.75 share price implies upside of more than 13% to the $72.15 share price. Buffett went out of the way to talk up this holding in 2012, and the dividend is about 1.9%. This refiner and marketer trades at only eight times earnings, and the street-high target price is $85.
Phillips 66
Berkshire has a rather small position in Verisk Analytics (VRSK) — less than $100 million, making it one of the new portfolio manager's positions. Now that shares are down around $58, this implies about 12% upside to the $65.18 consensus price target. This analytics outfit for financial, insurance and health care decision-making does not pay a dividend, but the highest analyst target is up at $71 here.
Verisk Analytics
(USG) is a strange position for Berkshire because the equity value of the stake of more than $400 million is undercounted to the actual control that the company has here. The $24.25 share price has corrected from more than $30, but that means there's a 27% implied upside to the $30.82 consensus price target. The common stock pays no dividend, but there is over 50% implied upside to the street-high $39 price target. The home builder products company still trades at a very high multiple of about 40 times earnings, but this has been a stake for years and years, while shares have been both much higher and much lower.
Photo: Davidneubert.com, Flickr.com
USG Corp.
Some of the stocks from the Buffett portfolio have quite a lot of implied upside, and other upside winners are only about at-market upside risks. Stocks have pulled back in recent days and volatility has returned with a vengeance.
So there you have it.
Fortune 500 Companies That Secretly Run Your Life
7 Companies That Behave Like 'Star Trek' Aliens
Fortune 500: America's Largest Companies
More from DailyFinance


Copyright 2015 The Associated Press. All rights reserved. This material may not be published, broadcast, rewritten or redistributed.
•Yahoo's New Plan: Spin Off Itself, Not Its Alibaba Stake
•GE Scraps $3.3 Billion Appliance Unit Sale to Electrolux
•E. coli Outbreak Linked to Chipotle Restaurants Expands